Senator (Prof.) Marilou McPhedran – Course Founder and Director
Senator McPhedran directs this course to focus on human rights as essential to inclusive democracy, as part of her commitment to bring the Senate to youth and youth to the Senate. Named a Member of the Order of Canada (in 1985) in recognition of her co-leadership in the successful campaign for stronger gender equality protections in the Canadian Charter of Rights and Freedoms. As an international human rights lawyer and educator, she specialized in starting, fundraising, designing, managing and sustaining mechanisms to promote equality and diversity for Canadian and international clients, having co-founded several widely recognized non-profit systemic change organizations (for example, LEAF – the Women's Legal Education and Action Fund).  Prof. McPhedran holds a Masters in Law in Comparative Constitutional Law (2004) from Osgoode Hall Law School, York University and was awarded an honorary doctorate (LL.D.) by The University of Winnipeg in 1992. In addition to the Order of Canada, her honours include:  Queen's Jubilee Medals (2012 and 2002); Rebelle with a Cause by the Elizabeth Fry Society (Saskatoon 2008 and Toronto 1992); Governor General's Persons Case Medal – the highest civic award for women in Canada (2005);  named as one of Canada's ten most influential women's rights advocates in Homemakers Magazine (2001); named Woman of the Year by B'Nai Brith Women – Toronto (1993) and a Woman of Distinction by the YWCA of Metro- Toronto in 1981.
Marilou McPhedran resigned as Chief Commissioner for Human Rights in Saskatchewan to become  the Principal of the University of Winnipeg Global College, serving from 2008 – 2012. She was seconded to the UN Population Fund Office in Geneva as a UN Human Rights Fellow and was a guest professor at the UN-mandated University for Peace (UPeace) in Costa Rica in 2012-3. She was appointed to the Senate of Canada in November 2016.
2018 Guest Faculty
Jorge Requena Ramos
Jorge Requena Ramos is an award-winning filmmaker and musician from Mexico. He documented his experience migrating to Canada with his directorial debut in the documentary Frostbite,  made for OMNI TV (Rogers).  He directed dozens of other short films and music videos that have played at various festivals before returning to TV directing with one-off documentaries and directing over two dozen true crime episodes.
With over 10 years experience in the industry, Jorge has played a key role in projects for Omni, Cooking Channel, Food Network, Discovery Channel, Super Channel, CBC, Hallmark Network, and Universal Pictures amongst others. These collaborations have led Jorge to travel across Canada, the United States, Spain, and Mexico.
Lloyd Kornelsen
Lloyd Kornelsen is the former acting executive director of  Global College, a highly popular teacher at the U of Winnipeg Collegiate, who holds a PhD in Education with a specialization in Global Citizenship at the faculty of Education at the University of Winnipeg. Lloyd is active at Global College as a professor and an exceptional role model. According to Lloyd:
"My research interest is exploring the intersections of peace education, global citizenship and experiential learning. This interest was first inspired when I facilitated global citizenship practica programs for UW Collegiate students in Costa Rica beginning in 2003. This experience has had a significant impact on the lives many of the participants, both in the long and short term. I'm questing to understand exactly what that impact is/was, and what it was about the experience that so had that affect."
Louise Simbandumwe
Louise Simbandumwe came to Canada as a refugee with her family in 1978 due to widespread massacres in Burundi. Louise has Bachelor's degree in Commerce from the University of Saskatchewan and a Masters in Comparative Social Research from Oxford University where she studied as a Rhodes Scholar. She currently works as the Co-Director for Supporting Employment and Economic Development (SEED) Winnipeg. Louise's extensive volunteer commitments include Amnesty International, the Ministerial Advisory Committee on Poverty, the Refugee Public Awareness Coalition, and Immigration Partnership Winnipeg. In 2012, she was presented with the Human Rights Commitment Award of Manitoba.
Art Miki
Art Miki has dedicated his life to promoting positive race relations, increasing awareness of human rights issues in Canada, and is an advisor to the Canadian Race Relations Foundation. As president of the National Association of Japanese Canadians, he led the negotiations to achieve a just redress settlement for Japanese Canadians interned during the Second World War. In 1991 Art received this country's highest recognition, the Order of Canada and in 1999 he accepted an Honourary Doctorate degree from the University of Winnipeg. He was Citizenship Judge for Manitoba and Saskatchewan from 1998 until 2008 and he is a guest instructor for the Faculty of Education and Global College at the University of Winnipeg.
David Newman
David Newman is the senior counsel to Pitblado LLP, and former managing partner and Chair of the predecessor firm. David serves as an advocate, negotiator, and dispute resolver. David serves as a facilitator of restorative justice processes and as an educator in the fields of peace, conflict resolution, and human rights. David has experience representing clients at all court levels including the Supreme Court of Canada as well as before numerous labour and other administrative tribunals. David served as a Member of the Legislative Assembly (MLA) (1995-1999) and as a Minister in the Manitoba Government (1997-1999) of Northern and Native Affairs, Energy and Mines, Community Economic Development Fund, and Manitoba Hydro. In 2012, David was awarded the Queen Elizabeth II Diamond Jubilee Medal in recognition of his significant contributions to Manitoba. David is a Peace Builder and Co-Chair and Co-Founder of Rotary District 5550 World Peace Partners and Peace Days; Member on International Board of Rotarian Action Group for Peace; Member of National Board of Honouring Indigenous Peoples, and Past President of the Rotary Club of Winnipeg (1994-95). David has a passion for the integration of peace, justice, and human rights practices within and amongst organizations.
Eduardo Da Costa
Eduardo da Costa is an economist, scholar, and development practitioner in the Brazilian Amazon rainforest. As the first Rotary Peace Fellow from the Brazilian Amazon region, and given his specific interest in the topics of sustainable development and peace, he was assigned by the Rotary Foundation to attend Duke University's Master of International Development Policy Program at the Duke/UNC Rotary Peace Center, in North Carolina.
Upon completion of the Rotary Peace Program in 2012, Eduardo returned to the Brazilian Amazon where he worked as Special Advisor to the Governor of the State of Pará, the second largest state in Brazil. In 2014, Eduardo was admitted to the PhD Program in Peace and Conflict Studies in the Arthur V. Mauro Centre for Peace and Justice at the University of Manitoba, Canada, where his research focuses on innovative approaches and strategies to ensure that voices, visions, and interests of indigenous peoples and local communities are incorporated into the planning, design, and implementation of development policies and large-scale infrastructure development projects.
Eduardo's academic interests focus on corporate social/environmental responsibility, conflict prevention, human rights, and the economic, social, and environmental dimensions of sustainable development in the Brazilian Amazon.
Kristi Kenyon
Dr. Kristi Kenyon is Assistant Professor in the human rights program at the University of Winnipeg. She comes to UWinnipeg having held post-doctoral fellowships in the Department of Political Science at Dalhousie University and the Centre for Human Rights in the Faculty of Law at the University of Pretoria in South Africa. The 2007 Trudeau scholar has worked in, on, and with civil society organizations for more than fifteen years in South East Asia, Southern Africa and Canada. Her current research focuses on human rights, civil society, health, development, and qualitative research with a regional emphasis on sub-Saharan Africa. She has a particular interest in HIV advocacy and in the ways culture shapes how we understand human rights.
Kenyon has worked for the Botswana Network on Ethics, Law and HIV/AIDS in Gaborone, Amnesty International in London and the Asian Institute for Development Communication in Kuala Lumpur. Kenyon has served on the board of local and international development organizations in Canada (World University Service of Canada) and Botswana (Thusano Lefatsheng Trust). She holds an MA in the Theory and Practice of Human Rights from the University of Essex (UK), and a PhD in Political Science (UBC).
Shamin Brown
Shamin Brown is an art and story activist, registered social worker, poet, writer and survivor of sexual exploitation. She is also the author of I'm an addict: In Bits & Pieces. In October 2014, she received the Canadian Hero Inspiration Award from the Joy Smith Foundation for her work in raising awareness and facilitating healing of sexual exploitation. Through her humanitarian work, she covers issues affecting women and youth such as prostitution/sexual exploitation, addictions, violence, harm reduction, healthy relationships, and the like.
Her therapeutic spoken word workshops build shame resilience through the use of sharing circles, narrative therapy and creative writing, placing emphasis on self-reflection. For public education presentations, Shamin also provides training and development services and public education presentations.
Shamin has previously served as a Coalition Member at the Manitoba Coalition of Experiential women and Transgenders, a Coalition Member of Sexually Exploited Youth Community Coalition, Youth Peer Mentor at Klinic Community Health, Sage House Drop in Worker at Mount Caramel Clinic, Research Support and Training and Development Assistant, and working as an Educational Assistant with the Winnipeg School Division.
Currently, Shamin is working with the Winnipeg School Division as a Youth Justice Educational Assistant, where she is academically, socially and behaviorally supporting youth in transitioning from the justice system into community schools.
Diane Redsky
Diane Redsky is a nationally renowned visionary thinker and community leader who has long worked to address the myriad of issue's facing Winnipeg's urban Aboriginal community in all areas of health, justice, education and social services. Since 1993, she has served in both a professional and volunteer capacity working within the social services sector and has become a strong advocate for aboriginal, children's and women's issues. She has helped to create numerous innovative programs that have helped build healthy communities. She believes in a shared value and culturally appropriate approach and possesses clear vision to detail. Diane's belief in the inherent strength of the community continues to guide her along her life's journey:
" I believe that everyone has gifts and strengths to share that will enable us to work together for healthy families and healthy communities."
Diane has been instrumental in the development of resources for sexually exploited and trafficked girls including a safe house and rural healing lodge in Canada. In 2013-2014, she led the Canadian Women's Foundation National Task Force on Sex Trafficking of Women and Girls in Canada that concluded 34 recommendations to end sex trafficking in Canada. Diane has returned to the Ma Mawi Wi Chi Itata Centre in Winnipeg to bring leadership and voice on Aboriginal issues.
She has received the Queen Elizabeth II Diamond Jubilee Medal, Order of Manitoba and presented to the United Nation Status of Women on violence against Aboriginal women in Canada.
"Together, we can give a voice to survivors, end this extreme form of violence against women and girls and stop this violation of human rights."
Leslie Spillet
Leslie was born in Northern Manitoba in 1951 and raised by a family with deep roots to the land. Her material ancestry is Cree from Cumberland House and Opaskwayak Cree Nation and Red River Metis and her paternal ancestry is Irish and Scottish.
Leslie attended boarding school in Saskatchewan and completed high school in Calgary. She obtained a Diploma in Journalism and Administration from the Southern Alberta Institute of Technology in 1972 and worked as a journalist and photographer prior to moving to Winnipeg in 1977.  She also attended the University of Winnipeg for two years working toward a Political Science degree.
Leslie has held various positions related to administration including her present position as the Executive Director of Ka Ni Kanichihk which she, along with other community women, founded in 2001. She was also one of the principle founders and leaders of Mother of Red Nations Women's Council of Manitoba and held an executive position on the Native Women Association of Canada Board of Directors between 2003 – 2007.
It was during her tenure that NWAC began its Sisters in Spirit campaign to raise awareness and action regarding the Missing and Murdered Aboriginal women in Canada. She participated in Amnesty International research and subsequent report, Stolen Sisters in 2003 – 2004. It was also during this time that activities to raise awareness of Missing and Murdered Women began in Manitoba. Leslie also raised this issues related to Missing and Murdered Women at a UN World Conference Against Racism in 2001 and at a UNESCO conference in 2005.
As the Executive Director of Anishnaabe Oway Ishi, she founded the Aboriginal Youth Achievement Awards.   She also founded the successful Keeping the Fires Burning, an annual event that recognized the importance of traditional knowledge and restoring the status of indigenous women.
Leslie has been an activist and advocate for many people on a wide range of issues, including child welfare, justice, education, health, environment, employment and women's rights.
Leslie is a mother, grandmother and a sundancer.
In 2011, the University of Winnipeg conferred upon Leslie an Honorary Doctorate of Laws. Most recently, she was inducted into the Order of Manitoba for 2012, the highest honour in the Province of Manitoba.
Nancy Hansen
Nancy Hansen, Ph.D. is an Associate Professor and Director of the Interdisciplinary Master's Program in Disability Studies at the University of Manitoba. Nancy obtained a PhD (Human Geography) from the University of Glasgow. and her research interests in disability studies are varied ranging including; disability in spaces of culture education, literacy social policy, employment healthcare access and experiences of disabled and LGBTQ communities in post-conflict areas. Nancy is a former member of the Member CAUT Working Group Academics with Disabilities and Equity Committee, former President of the Canadian Disability Studies Association. Nancy received an Einstein research fellowship examining Disability Studies and the Legacy of Nazi Eugenics. Nancy received the The ICUF Sprott Asset Management Scholarship examining disability history. She is co-editor of the Routledge History of Disability and published in June Untold Stories: A Canadian Disability History Reader. In addition, Nancy has written numerous book chapters and contributed to various international academic journals.
Dr. Albert McLeod
Albert McLeod is a Status Indian with ancestry from Nisichawayasihk Cree Nation and the Metis community of Norway House in northern Manitoba. He has over thirty years of experience as a human rights activist and is one of the directors of the Two-Spirited People of Manitoba. 
Albert began his Two-Spirit advocacy in Winnipeg in 1986 and became an HIV/AIDS activist in 1987. He was the director of the Manitoba Aboriginal AIDS Task Force from 1991 to 2001. 
Albert lives in Winnipeg, where he works as a consultant specializing in Indigenous peoples, cultural reclamation, and cross-cultural training. www.albertmcleod.com .
Dr. Jan Stewart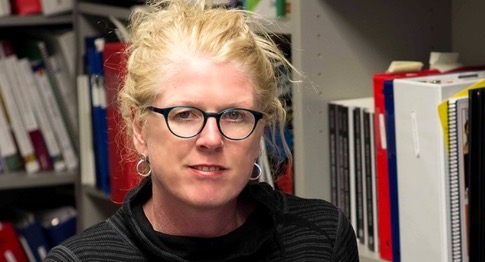 Dr. Jan Stewart is a professor in the Faculty of Education at The University of Winnipeg and currently the Acting Dean of The Gupta Faculty of Kinesiology and Applied Health.
Stewart is the lead investigator of a three-year national research program funded by SSHRC, CERIC, and Mitacs to examine best practices for supporting refugee and newcomer youth. She is the lead investigator of a provincially-funded research program exploring the mental health needs and challenges for refugee youth and a SSHRC funded study on the settlement, education and psychosocial needs of Syrian refugees in Canada. Stewart recently completed the Harvard Medical School Certificate in Global Mental Health: Trauma and Recovery.
With over 30 years of teaching, research, and field experience, Stewart has achieved expertise working with children and youth who have been affected by conflict, trauma, violence, abuse, mental health issues, neglect, and human rights violations. She has led international research and teacher development programs in Zimbabwe, South Sudan and Uganda and she has conducted national and international seminars and conferences around the world.
Stewart has published numerous journal and magazine articles and has appeared on numerous national and international television and radio shows. She is the author of The Anger Workout Book for Teens, The Tough Stuff Series, The STARS Program and Supporting Refugee Children: Strategies for Educators. Her new book, Bridging Two Worlds: Culturally Responsive Programs and Services to Meet the Needs of Newcomer and Refugee Children in Canada, will be released in Ottawa in January 2018.
©UWinnipeg
Mireille Lamontagne
Mireille Lamontagne is Manager, Advanced and Professional Programs at the Canadian Museum for Human Rights in Winnipeg, Manitoba. She is specialized in pre-contact Indigenous heritage and has developed numerous programs that use a decolonizing approach through community-led initiatives. Her career progression spans twenty-five years in museum education and management, grants and contributions management, heritage policy, preservation and archaeology in various roles at The Manitoba Museum, Parks Canada and the Department of Canadian Heritage. She has been a recipient of the Finkle Prize in Anthropology, the Corbeil Award in Program Evaluation, and a Deputy Minister's Award for Program Management.  Mireille holds an Advanced B.A. in Anthropology from the University of Manitoba, a Post-Graduate Diploma in Cultural Resource Management and a Professional Specialization Certificate in Cultural Sector Leadership from the University of Victoria. She was part of the CMHR's inaugural team as Manager of Education and Special Projects, establishing the foundation for the Museum's approach to educational programming.
Mireille Lamontagne
Manager, Advanced and Professional Programs |Gestionnaire, Programmes avancés et professionnels
E:  mireille.lamontagne@humanrights.ca | mireille.lamontagne@droitsdelapersonne.ca
Breanne Lavallee-Heckert
Breanne Lavallee-Heckert is currently a student in the Faculty of Law at McGill University. Before attending law school, Breanne completed a Bachelor of Arts in Human Rights from Global College. She was born and raised in Winnipeg and is a proud member of the Métis community in Manitoba. Breanne is passionate about the rights of children, and particularly the rights of girls. She has worked with Plan International for over 8 years, and is currently the Chair of Plan International Canada's Youth Advisory Council and a member of Plan International's Global Youth Advisory Panel. Breanne has had the opportunity to attend meetings with Plan International Canada's Board of Directors, to sit at Plan International's Members Assembly, and most notably, to shadow Prime Minister Justin Trudeau. After law school, Breanne hopes to pursue public office.
Michael Redhead Champagne
Michael Redhead Champagne, born and raised in Winnipeg's North End, is an award-winning community organizer, public speaker, and a proud member of Shamattawa Cree Nation. Michael believes we all have a gift and shows youth the path to discover their own. He is solution oriented and passionate about building system literacy, encouraging volunteerism, and engaging communities to be involved in the design, delivery, and evaluation of any initiative that affects them. Michael is known for his straight up and heartfelt style that will leave you moved, inspired, and ready for action.
Michael believes in leading by example and now travels across Canada sharing his gift with others. Whether he is speaking to educators, youth, the business community or the not-for-profit sector his goal is the same, to help heal, shape and create a call to action for everyone.
Grant Mitchell
Grant Mitchell is a Community Chef at NorWest Coop Community Food Centre.  He works with volunteers preparing healthy meals for the Inkster community and advocates for fundamental change in our food system. He is also an experimental gardener, meaning he doesn't quite know what he's doing but loves it anyway.
Heather Bidzinski
Heather Bidzinski is the Head of Collections at the Canadian Museum for Human Rights with over 10 years experience as an archivist and collections manager.   She is responsible for the development and management of collections across the museum including artifacts, archives, and library.  Her unit provides a number of key museological services including coordination of incoming loans, intellectual property management, provision of reference services, and providing access to the collections.  Before joining the CMHR in 2010, Heather was an archivist with the Nova Scotia Archives, Acting Manager for the Manitoba Records  Centre, and archivist with the Hudson's Bay Company Archives.